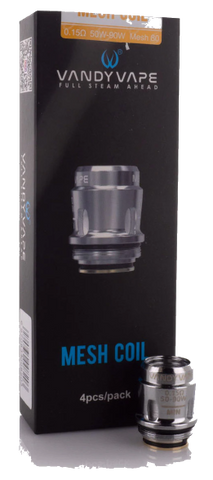 Vandy Vape Jackaroo Mesh Coil
These mesh coils are designed for the Vandy Vape Jackaroo Tank. You have two mesh options; Mesh 80 and Mesh 50.
The Mesh 80 replacement coils read 0.15Ω and are best used between 50-90W. The single vertical mesh design is built for surface area, being parallel in a straight line formation. With these coils, you will receive full flavor and thick cloud production from your Vandy Vape Jackaroo!
The Mesh 50 coils are a single vertical mesh as well and read 0.3Ω. The best wattage range for the Mesh 50 coils is between 40-60W. The formation of the mesh is diamond-shaped so you can expect thick and dense cloud production without sacrificing on the taste you love!
Kanthal Heating Element
Mesh 80 Option:
0.15Ω
Best Between 50-90W
Parallel Up and Down Mesh Design
Single Vertical Mesh Coil
Mesh 50 Option:
0.3Ω
Best Between 40-60W
Diamond Shaped Mesh Design
Single Vertical Mesh Coil
Fit For The Jackaroo Tank
---
We Also Recommend