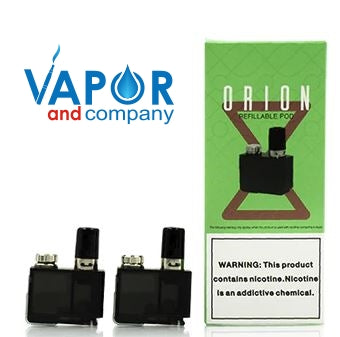 Lost Vape Orion DNA GO Replacement Cartridges 2PK
The Lost Vape Orion DNA GO Replacement Cartridge(s) exclusively fits in the 
Orion DNA Go Devices
Lost Vape Quest Orion DNA Replacement Cartridges are not compatible with the Lost Vape Orion Q Devices
Each refillable pod can hold 2ml of vape juice and utilizes organic cotton wicking.
The adjustable mouthpiece lets you customize the airflow for your preferred style.
The Orion mod will automatically tell the resistance of your pod and will adjust accordingly to give you a smoother drag and better flavor. This product comes with two refillable pods in every package.

To fill your Orion DNA GO Pod, simply twist off the cap located on the top of each pod and fill with your vape juice of choice. It is recommended to allow each new pod to sit for 15 minutes before use.

---
We Also Recommend