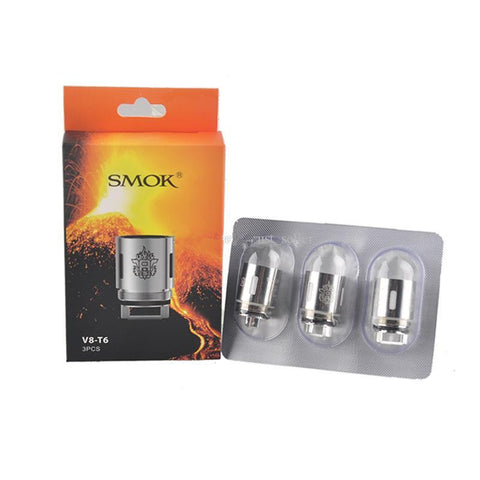 SMOK TFV8 Coil 5PK
SMOK TFV8 Coils
The SMOK TFV8 V8-T8 features a 0.15ohm resistance with an astonishing octuple design orientation with staggering vapor production to be run up to 260W.
The SMOK TFV8 V8-T6 is a 0.2ohm sextuple coil design with powerful clouds, capable of being fired up to 240W for a smoother experience.
The SMOK TFV8 V8-Q4 is a 0.15ohm quadruple coil synonymous with tempered cloud potential while retaining superior flavor.
The SMOK TFV8 V8-T10 is a 0.12ohm decuple  operating with a mind-numbing 10 cores, you'll have all the thick rich clouds you'll ever need. 
The SMOK TFV8 V8-X4 is a 0.15ohm decuple  stainless steel coils that will bring out peak performance from your Cloud Beast tank
The SMOK TFV8 RBA Coil, is the special RBA Coil for SMOK TFV8 tank, master DIY piece for TFV8 RBA vaping! Build deck with premade 0.16ohm/ 0.28ohm clapton coil for your selection
---
We Also Recommend